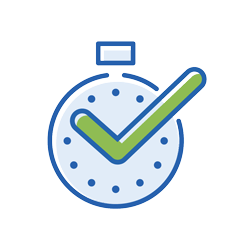 Our 72-hour guarantee will have your handpiece repaired fast
Through our 70 years of experience of servicing and repairing dental equipment, we understand your handpiece is critical to your dental operation. We eliminate the frustration of waiting for parts by carry a large inventory of replacement parts in our NSK Authorized warranty centre in Winnipeg, MB, Canada. For the most part, your handpieces stay in Winnipeg to get repaired by our reliable and friendly service reps. This helps reduce costs and further damage to your tool through shipping. While your handpieces are getting repaired or maintained, we have a wide range of rental equipment available to keep your practice operating during downtime.
We guarantee that from the time your handpiece is received at our office we will have your repaired handpiece* ready to ship back in just 72 hours. In fact, we are so confident in that, if it doesn't happen your repair is completely free. We pride ourselves on providing the most reliable handpiece service in Canada.
Be sure to reach out to us for any questions and find out how you can take advantage of our 72-hour guarantee on the repair and maintenance of your handpieces. Click here to schedule a pickup.
*From approval of quote